Performance Review - An Audit & Fine Tune of Your Flexible Workspace Business

This is our core service where we carry out a comprehensive analysis of your flexible workspace operation and provide detailed analysis and actionable recommendations for revenue and operational enhancement together with a detailed how-to on change implementation. We'll also provide implementation on areas such as member management, staff training, CRM structuring and marketing strategy.

This service will bring your space into 2017 both from a practice and technology stand point. It will enhance your revenues, identify underutilised opportunities, provide up to date benchmarking and place you head and shoulders above of your local and regional competition. Areas include:-
A Full Review of your day-to-day management, operational structuring and planning. Core areas which are reviewed include:-

Centre Manager/Community Manager role and responsibilities
Assistant Centre/Community Manager role and responsibilities
Support Staff Role and Responsibilities
Member Move In Procedural Checklist
Member Move out Procedural Checklist
Post/Mail Services Protocol
Virtual Office Service Protocol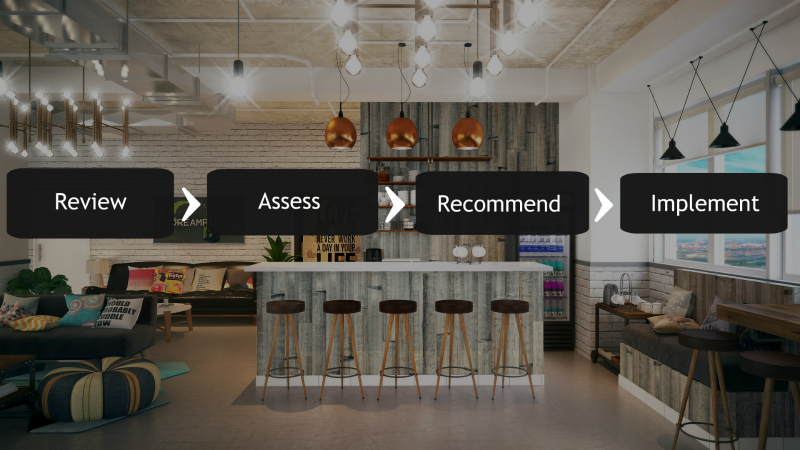 Tailored Membership Agreement – resident member
Tailored Membership Agreement – virtual
Credit Control Policy and Templates
Move out upsell to virtual or third party user templates
Meeting Room Management Protocol
Client Dispute Resolution Procedure
Touring Procedures, Meet and Greet Protocol, Best Practice for Conversion and Real Time Sales Opportunities
Our close connection with the Flexible Workspace industry gives us unique access to the constantly evolving workspace technologies and member management software that automate revenue streams, provide member insight, enhance online conversions and develop deeper member relationships. We work with the best in class providers and can offer you solutions and implementation consultancy in all of the following areas:
White Label E-Commerce

Online Meeting Room Reservations

CRM - Leads, Space Tours and Sales

MRM - Member Relationship & Lifecycle Management

Automatic Invoicing & Online Payments

Revenue & Performance Reporting
Print Management, Copying and Scanning

Client & Community Portals
Office Workspace Members Directory
Vacancy and Renewal Management
Meeting Room Integration
A comprehensive review of your existing operational strategy together with advisory on underutilised revenue opportunities with actionable recommendations. Areas include Membership Package Structuring; Benchmarking, Client Life Cycle Revenue Opportunities; Over-Occupancy Strategies; Product Bundling; Continued Revenues from Departing Clients; Broadband Revenues; E-commerce & Self Fulfil Strategies; Partner Revenue Opportunities; Extended Service Revenues, VO strategies and Meeting Room Revenue Optimization.

This service includes a detailed competitive analysis both local and regional.

Trusting your flexible workspace marketing plan and CRM strategy to an agency with limited knowledge of the industry can waste large sums. With over 10 years experience, we have developed a specialized marketing strategy bespoke to flexible workspaces. At its core is an understanding of the marketing challenges faced by space operators and the industry know-how to target, reach, engage and convert potential customers, coworkers and businesses and corporates as required.
Digital Footprint: Set up or audit of your online digital reach to include website SEO analysis, Google My Business, Google Plus, content marketing strategy, email marketing strategy, social media strategy and platform selection and paid promotion options on social, google other engines.


Sales Funnel: Fully comprehensive review of your sales process from initial contact to conversion with tailored recommendations on sales strategies, lead capture, conversion techniques and channels to market.
Channel Partner Audit: Placement of your space with all major channel partners to include traditional brokers, web brokers, shared office web portals, value added resellers, network promoters and market place providers locally and worldwide.

CRM Audit: We will set your space up your CRM and marketing software platform tailored for your flexible workspace and provide training to your sales & marketing team to enable them manage enquiries and track and follow every lead from initial contact to conversion and beyond as well as market to prospects & leads.
---